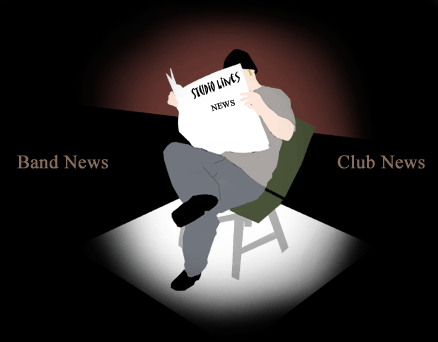 ( Scroll down for StudioLines.com site news )
---
---
Saturday, March 23, 2002
---
---
The StudioLines.com Shopping Cart Is Operational!
StudioLines.com now has a live shopping cart system which allows site visitors to purchase full-length tracks from its member artists. Previously, the site was littered with "under construction" signs promising options would be soon available for obtaining the full length versions of artists' additional tracks. (Additional tracks only have sample versions available as free downloads. The full length versions are purchased to support the artists' musical efforts.) Now that the shopping cart system is in place, site visitors have one of the planned options available for obtaining the music they want to hear.
In the near future, we will also have options available for ordering custom CDs with your choice of tracks from StudioLines.com. We will also be supporting the purchase of CDs our artists and, where they are signed up with one, their record labels, have available.
To use the shopping cart system, Log In to your StudioLines.com membership. If you are not yet registered as a member of the StudioLines.com community, please take the time to sign up now. It's free, easy, and will only take a couple of minutes. Once you've signed up, you will have access to many more features at this site. Simply go to the Sign Up page in the Members section and follow the directions there.
Once you are logged in, go to the Online Shopping section for more information. For fastest results, simply go to one of the artist pages in the Listen To Music area, and add tracks from their pages to your shopping cart.
Return to the top of this page
---
Saturday, November 24, 2001
---
---
StudioLines.com Development Moves Back Into High Gear
After a series of delays and setbacks, the development of StudioLines.com has moved back into high gear. We expect to have all of the initial major features of the site operational before the end of the year. Stay tuned for all of the exciting developments as they happen!
StudioLines.com Is Now On Its Own Server
StudioLines.com has moved to its own server for increased operational control, and to allow us to deploy additional features with a minimum of effort. With 60GB of disk space allocated to music files, we expect to be able to host a far wider range of offerings than we previously could support.
Streaming Support Installed at StudioLines.com
One of the features we installed on the new StudioLines.com server is streaming audio support, provided through use of RealServer system software. Now, rather than having to wait for a song to download before being able to listen to it, site visitors can select the "Play" option for songs and track samples, and hear the music after a brief pause while the initial data buffer is transferred to their system. Streaming music, therefore, makes the site seem much more responsive, and will make it more attractive to visitors. In turn, that will cause our bands' music to be heard more, providing a better environment for all concerned.
Return to the top of this page
---
Friday, April 13, 2001
---
---
StudioLines.com Continues Development
StudioLines.com has targeted the third week of April, 2001, for its initial public use. Toward that objective, we are working on adding features and functionality as quickly as we can. Please keep an eye on our site for news about the effort!
StudioLines.com Moved to Web2010
StudioLines.com has moved to Web2010 for its Web hosting service. We expect this will allow us to more rapidly deploy our site, and provide faster access for file transfers.

Return to the top of this page
---
Thursday, November 30, 2000
---
---
Keyword Access System Functional at studiolines.com
The StudioLines.com Web site now features a "keyword access system" to make getting to popular destinations easier. The system has now been successfully deployed, and works properly in the frames environment of the site.

A list of the supported keywords can be obtained by entering

Keywords in the navigation map window at the left, or by selecting the

studiolines.com Keyword Access System


link available on most pages througout the site.
studiolines.com Successfully Moved to Linux
studiolines.com has been successfully moved from its previous Micro$oft IIS Web server to a Linux machine running Apache. Although some glitches were encountered in the transition, the move is expected to enable us to offer a far more robust environment, and a much friendlier user experience. We would like to thank our hosting company, Infinity Computers, for working with us to straighten out the bugs we had to work through during the past week.

Return to the top of this page
---
Monday, November 20, 2000
---
---
Web Site Development Continues at studiolines.com
Lots of things are going on here. Keep watching to see what happens next!

Return to the top of this page
---
studiolines.com to be moving to Linux Wednesday
Due to incessant incompatibilities and problems with the Micro$oft IIS Web server, the development team decided today to move studiolines.com to a Linux machine. The transition will be effected on Wednesday, with worldwide propogation of the new DNS address expected before the end of the day Thursday. The NT site will remain online until the transition process is completed, but significant features won't be available from the site until the Linux site is online.

Return to the top of this page
---
Keyword Access System Installed at studiolines.com
The StudioLines.com Web site now features a "keyword access system" to make getting to popular destinations easier. However, since the Micro$oft IIS Web server is unable to pass parameters to a CGI program called from within a Web page, this feature will not be usefully implemented until the transition to the Linux server has been accomplished.

Return to the top of this page
---
Home / About Us / Today's News / Submit Music / Booking Info / On Line Shopping / Listen To Music
Technical Info / Members Area
StudioLines.com Keyword Access System
---
Today's News / Webmaster / Last modified March 23, 2002 @ 10:47 pm
Copyright © 2001-2002 by StudioLines.com. All rights reserved.